Kell-Chuck Glass has a Love for Family, Customers and Community
Some things are just meant to be. In 1970 when Mike Kelly was 16-years-old, he started working at Olympic Window, located at 117 Lilly Rd NE in Olympia. He started at the bottom and worked his way up as the company grew and eventually moved to another location. During that time, Mike met Kim on a blind date. It turned out that she worked for a competing glass company. They were a perfect match.
Fast forward ten years to 1980. Mike decided to go out on his own and start a business with his partner, Chuck Bishop and Kell-Chuck Glass, named after the founders, was born. Kim and Mike had just welcomed their first baby and Mike asked Kim to do the books for the new business. "I would breast feed at midnight while trying to do the books," Kim laughs. "We were located across the street from our current location and we didn't have a bathroom. But we had a ping pong table!"
After just six months, they bought the building across the street and moved to their permanent home at 117 Lilly Rd NE, Olympia. Yes, you read that right. Mike was back where he started. But this time, with his very own business. Kell-Chuck started out with just 3 employees and now, over 35 years later, the business includes residential and commercial locations with over 45 employees. Chuck has retired and the Kelly family has taken over the business in full, running it with the same dedication and care they always have.
Travis Pennington, financial manager for Kell-Chuck Glass, is also the Kelly's son-in-law. He met their daughter when they were just 15-years-old. In the summers, he would work for Kell-Chuck cleaning windows prior to installation. And their other son-in-law, Ryan Hagan, manages the commercial side. Clearly, love is in the air at Kell-Chuck Glass.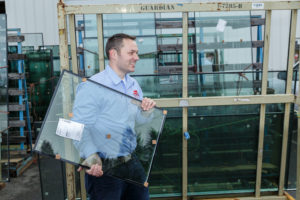 The feelings of love are not just within the family, either. The entire team seems to genuinely love their jobs. Many employees have been working for the company for over 20 years and a few for over 30 years. "We keep a positive work environment, we are family-friendly and really support the community, which I think are all things employees appreciate," Kim answers when asked about how they have managed such high retention. "We also treat them with respect and have fun. For example, we are all going to a Rainer's game a group." Travis adds that not being corporate means employees have more autonomy than with many companies and this helps with job satisfaction.
A Love for Customer Service
Kell-Chuck Glass knows there are other glass companies in the area and a lot of choice. However, they are proud of their many customers who have been with them for over 30 years. It's all about the love they show for their clients. "We are super customer oriented," Kim says. "We will go up in the attic and dig through dusty files to find a past client's information to do a repair, even though we know it's no longer under warrantee. We bend over backwards to make everyone happy."
Customer satisfaction and fair pricing is the basis of their business Mike says. They will always return to a customer's house to fix something when needed. And while the big box stores may sell windows, they most likely don't offer the expertise of employees with over 50 years of experience in the glass industry. From planning to design to installation and warranty, Kell-Chuck Glass has the knowledge to see your project through from start to finish.
Kell-Chuck Glass has full-service offerings for both residential and commercial installations. For residential, they even offer custom shower doors. They also sell and install glass barriers or railing systems for outside patios or inside stairwells.
On the commercial side, they work on everything from one to ten-story buildings, including windows, stairs and entry doors. "We still take the time to help smaller companies, helping with little things such as a glass door that is sticking at their small office," Kim explains. "A lot of business won't do this because it not worth their time but for us, it's all about helping our customers."
A Love of Their Community
The team at Kell-Chuck Glass doesn't just love their clients, but their entire community. They focus on youth activities and have been a sponsor of Ballet Northwest for over 20 years. Other groups they have supported through sponsorships or in-kind donations including Big Brothers Big Sisters of Southwest Washington, South Sound YMCA, United Way of Thurston County, Saint Martin's University and the Hands On Children's Museum. "All these programs are so cool and give kids a positive place to go after school," says Kim. "It's always been our passion to help our local kids have a better life."
They also sponsor many youth sports teams and have donated in-kind to Make-A-Wish and Habitat for Humanity. And during the last two years, Kell-Chuck Glass has participated in Toys for Tots. Last Christmas, Travis and his son went to the toy warehouse helped sort through toys and put together the gifts based on the families' shopping list, something they won't soon forget.
To learn more about how Kell-Chuck Glass can help you with your project – whether you just need a few repairs or a whole new set of windows and doors – visit the Kell-Chuck Glass website or call 360-491-5244.