Kell-Chuck Glass: Bring a Touch of Affordable Luxury to Your Bathroom
According to online sources, the average American spends close to 200 hours a year in their bathrooms. As the mother of two girls, I would venture that number is even higher in some cases. Perhaps that is why people are remodeling their bathrooms in greater numbers than ever before. If you are going to spend over a week each year in one room, why not make it a sanctuary for you and your family? Today, bathrooms are larger than ever and much of that square footage is being allocated to a luxurious and spacious shower.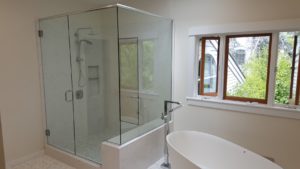 In previous decades, the shower was just a small stall with more room dedicated to a bathtub. Today, the focal point of the bathroom is the shower. Showers are larger and often include multiple showerheads, storage and even benches built in for a spa-like experience. Gorgeous tiled rooms with rain-like showerheads fill the pages of home improvement magazines. "When people are remodeling their bathrooms and spending money on tile, they want a shower door that showcases this detail," explains Travis Pennington of family-owned Kell-Chuck Glass. The hottest trend in showers is semi-frameless heavy glass doors.
These newer, semi-frameless shower doors provide an almost invisible entry so that the eyes fall upon the tile or stone inside. The most commonly used glass for a semi-frameless door is 3/8 thick. The majority of heavier glass doors sold at Kell-Chuck Glass include the signature "Showerguard Glass." This baked-on finish helps provide protection from soap scum build-up and to make cleaning your shower doors easier. With regular maintenance and use of the free squeegee Kell-Chuck provides with every door, your glass will maintain a brand-new look for years to come.
My favorite thing about these heavier glass doors is, in some cases, they eliminate the need for a metal track. The shower is easier to clean and safer without a track to trip over. However, the less expensive track-style shower doors have their place too, and Kell-Chuck Glass can install any type of shower door you desire. They have been doing it for almost four decades and know all the options.
The most important thing to remember when building a new home or remodeling your existing bathroom is to get the folks at Kell-Chuck involved early. "We can save the homeowner money and a lot of headaches if we are included in the initial planning," says Jeff Wolden, Kell-Chuck's general manager. Unfortunately, some homeowners have had to settle for a different style door because they didn't have adequate backing, for example. "Come in to Kell-Chuck Glass first," says Wolden. "We have design brochures and a shower door planning guide that will ensure your bathroom has the look and function you desire." Simple issues like drainage and accent tiles can be addressed early with minimal expense. The company offers free consultations and will even visit your home or construction site during the framing process to ensure the process goes smoothly.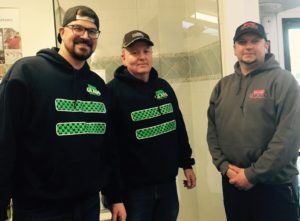 Brian Moore is the lead installer for Kell-Chuck and appreciates how his employer puts quality and safety first. "We have over 100 years of combined staff experience and an A+ rating from the Better Business Bureau," shares Moore. Recently he was on a call to fix a loose door handle at a customer's home. The door had been installed four years prior and when Brian finished the slight adjustment, the homeowner asked how he would be charged. "No charge at all," Brian was happy to reply. "We stand by our products."
Kell-Chuck Glass uses the latest technology in laser measurement to ensure your shower door will fit perfectly. Every shower door is custom fit to your specifications. Fortunately, that means even when the opening isn't exactly a plumb line, Kell-Chuck Glass can make the minor adjustments needed. "We can cut the glass at an angle and adjust the hardware so that discrepancies can be matched and won't be noticed by the naked eye," explains Moore.
Standing by the quality of their work means sometimes having to say no to a design idea. Wolden explains sometimes the images in the magazines are just there for beauty but are unrealistic. "People will bring us pictures with no visible hardware or doors that are attached to things that just won't hold," shares Wolden. Photoshop allows home magazines to create images where necessary fittings and brackets have been almost completely edited out, but Kell-Chuck Glass will work with contractors and homeowners to create the most esthetically pleasing and safe result.
"There are a lot of companies that do what we do, but we are committed to providing the best product and the best service," says Wolden. Kell-Chuck Glass's 38 years of experience helping residents and business owners of Thurston County with their glass needs ensures a quality product with quality service from quality people.
For more information on shower doors and all your glass needs call Kell-Chuck Glass at 360-491-5244 or visit Kell-Chuck Glass online.